Yue Minjun : Boundless NFT Print
Yue Minjun's 999 NFT Boundless collection transitions from digital to physical with a unique collection of signed prints backed by an NFT Certificate of Authenticity available for purchase until
October 6th, 2023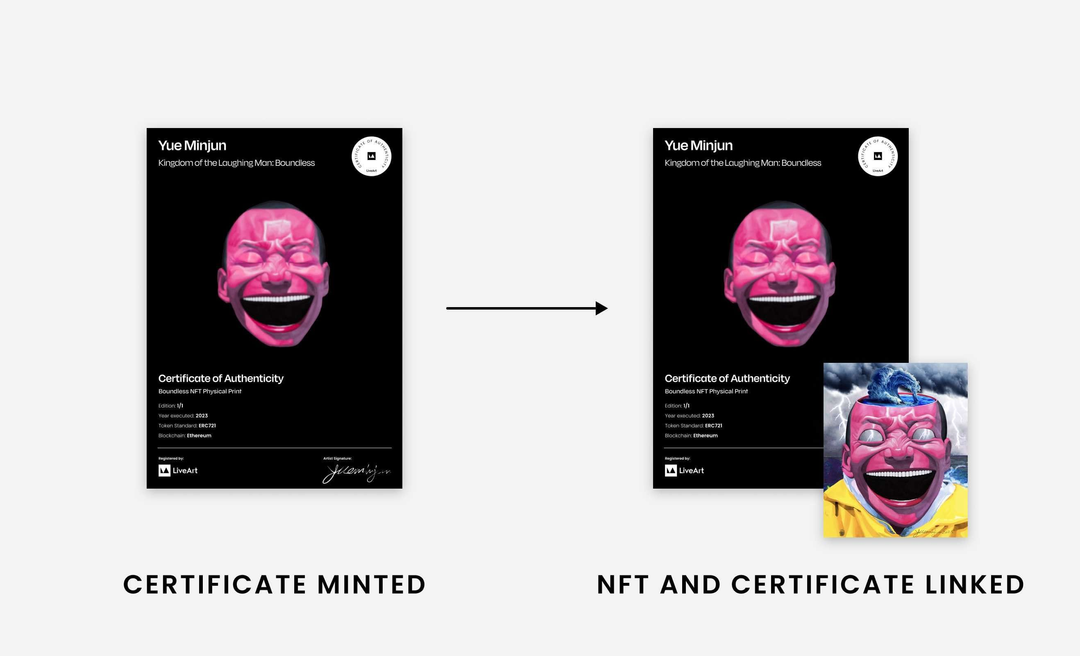 Live now • Closing October 6
Step 1: Purchase a Redeemable NFT
Boundless NFT holders
can buy Redeemable NFTs corresponding to each of their Boundless NFTs. Each Redeemable NFTs entitles the holder to redeem a unique 1/1 print The prints are offered in two distinct sizes:
Large print:
0.8 ETH - 40 x 45 cm (15.74 x 17.71 in)
Small print:
0.4 ETH - 20 x 25 cm (7.87 x 9.84 in)
You can learn more
here
Live now • Closing October 6
Staking Discounts
Boundless NFT holders will soon be able to stake their NFTs to access discounts towards their print purchase.
Learn more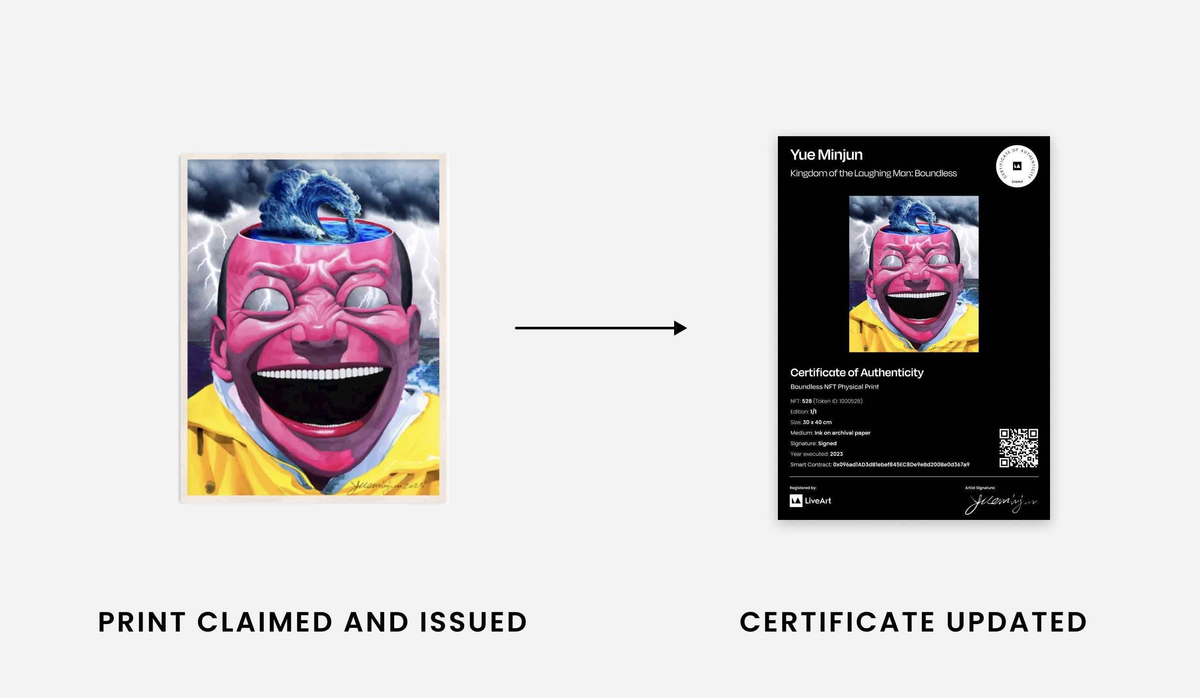 Coming Soon • Starting October 9
Step 2. Redeem Your Print
To redeem your print, provide your shipping address and choose the specific Redeemable NFT(s) you wish to print. Once this process is complete, you will automatically receive a tokenized Certificate of Authenticity and trigger the shipping process for your print. Each print is hand-signed by the artist and is accompanied by a tokenized Certificate of Authenticity on the Ethereum blockchain.
Boundless NFT Registry
Please refer to the Boundless NFT Registry to verify if the certificate of authenticity has been issued and the print has been claimed. Each NFT is limited to one certificate and can only be printed once
Status of issued certificates and printed NFTs
When a certificate is minted or an artwork printed, the metadata of the Boundless NFT is updated. Use this tool to check on the status of an NFT.
Please enter the number associated with the Boundless NFT you want to print
Where can I find my Boundless NFT number?
View all minted certificates
content_paste_search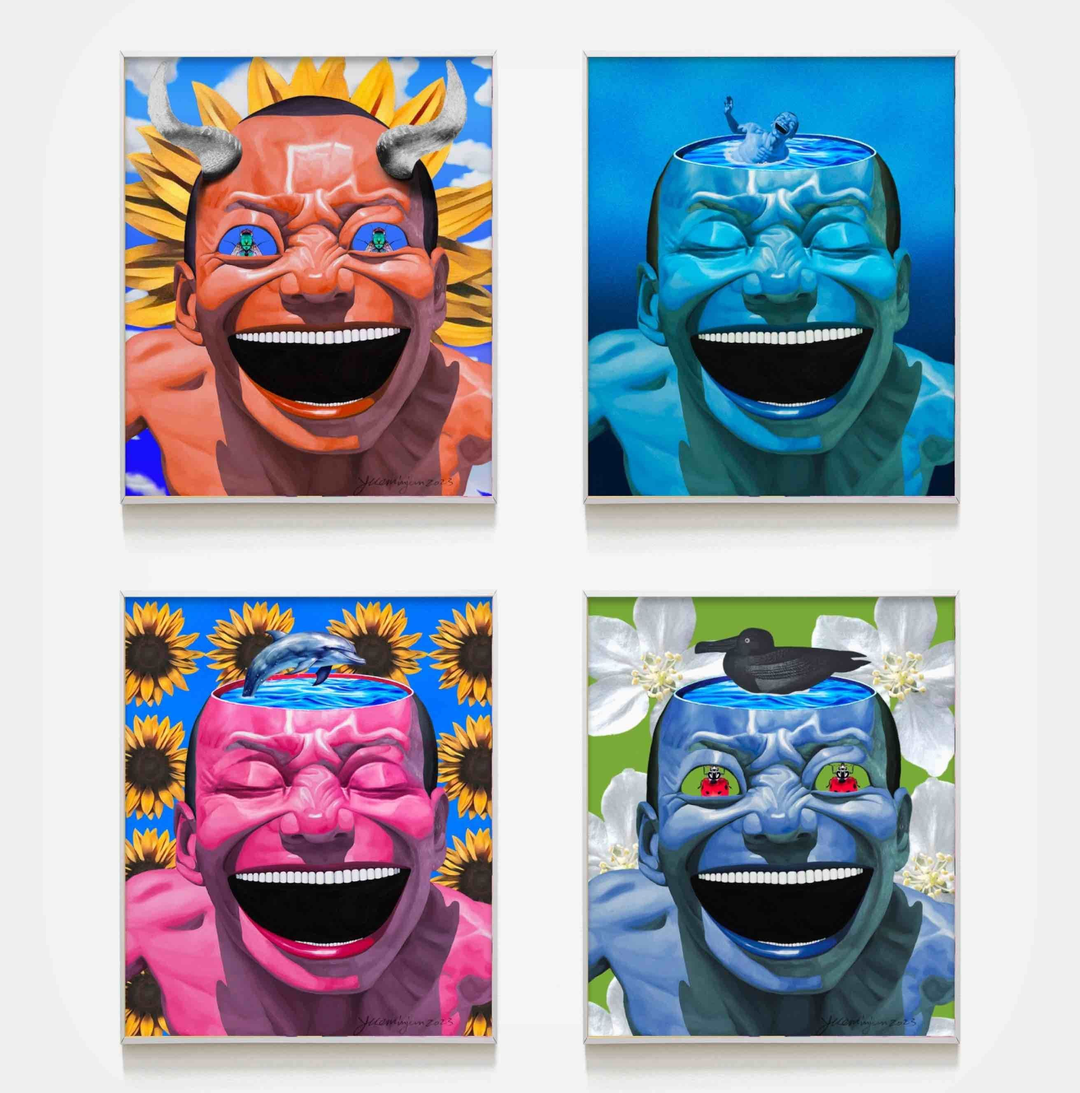 Edition Details
Small Print size
20 x 25 cm (7.87 x 9.84 in)
Large Print size
40 x 45 cm (15.74 x 17.71 in)
Authentication
Tokenized Certificate of Authenticity included
Signature
Hand-signed by the artist. The artist's digital signature on the NFT will be replaced in the physical print with a hand-signed signature by the artist
Authentication
Tokenized Certificate of Authenticity included
Medium
Archival pigment print on 350 gsm cotton Hahnemühle Fine Art paper
Shipping
Free shipping included
Yue Minjun has an established market in art
Art Market Insights Powered by LiveArt Data
Market Overview
Auction Sales
USD $150,000,000
Top Physical Art Sale
USD $6,932,988
Museum Collections
M+ Museum, SFMoMa, Busan Museum of Art , Union University Art Museum
Eligibility
Yusaku Maezawa, Uli Sigg, Cherryl and Frank Cohen (Initial Access), and Mei and Allan Warburg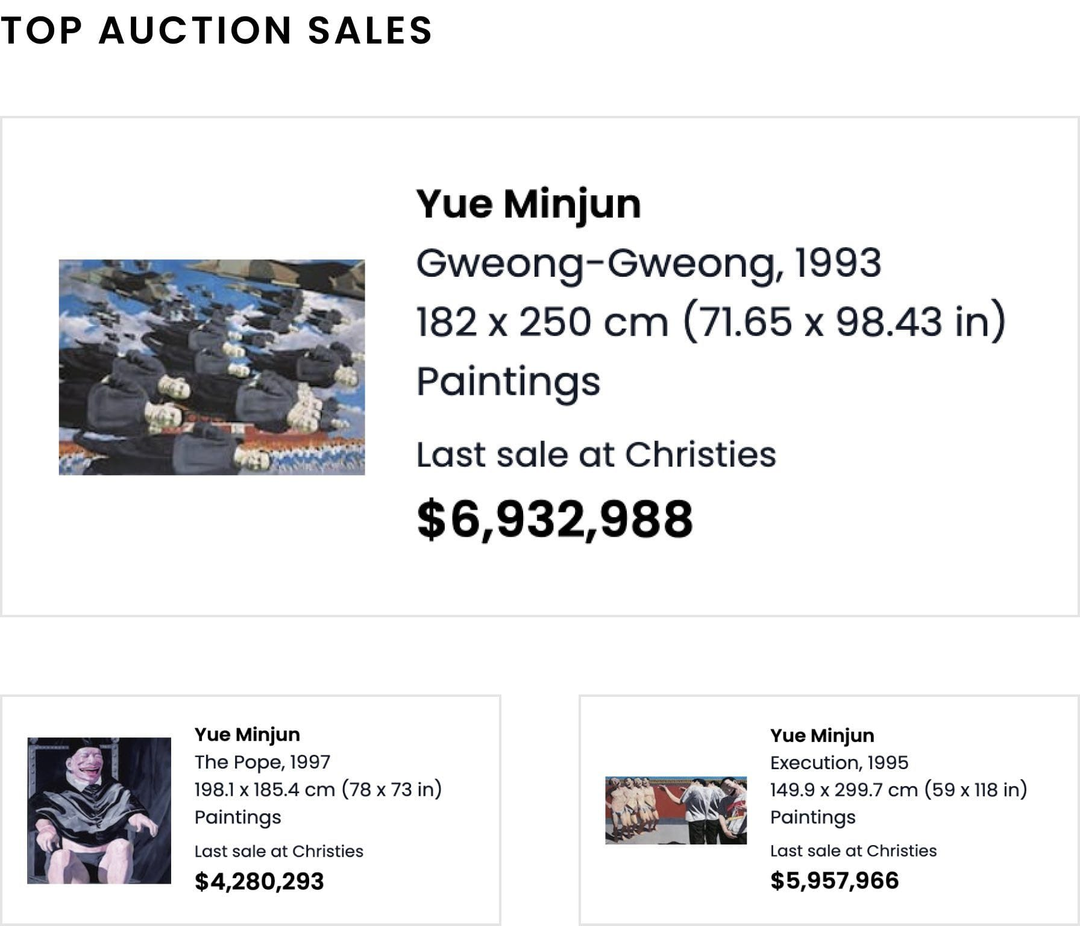 Yue Minjun's print market has an average Auction Sale Price of $6,566
Print Market Breakdown
Total Auction Sales Volume
USD $1,431,321
Secondary Market Price Estimate
USD $4,000 — $22,000
Average auction sale price
USD $6,566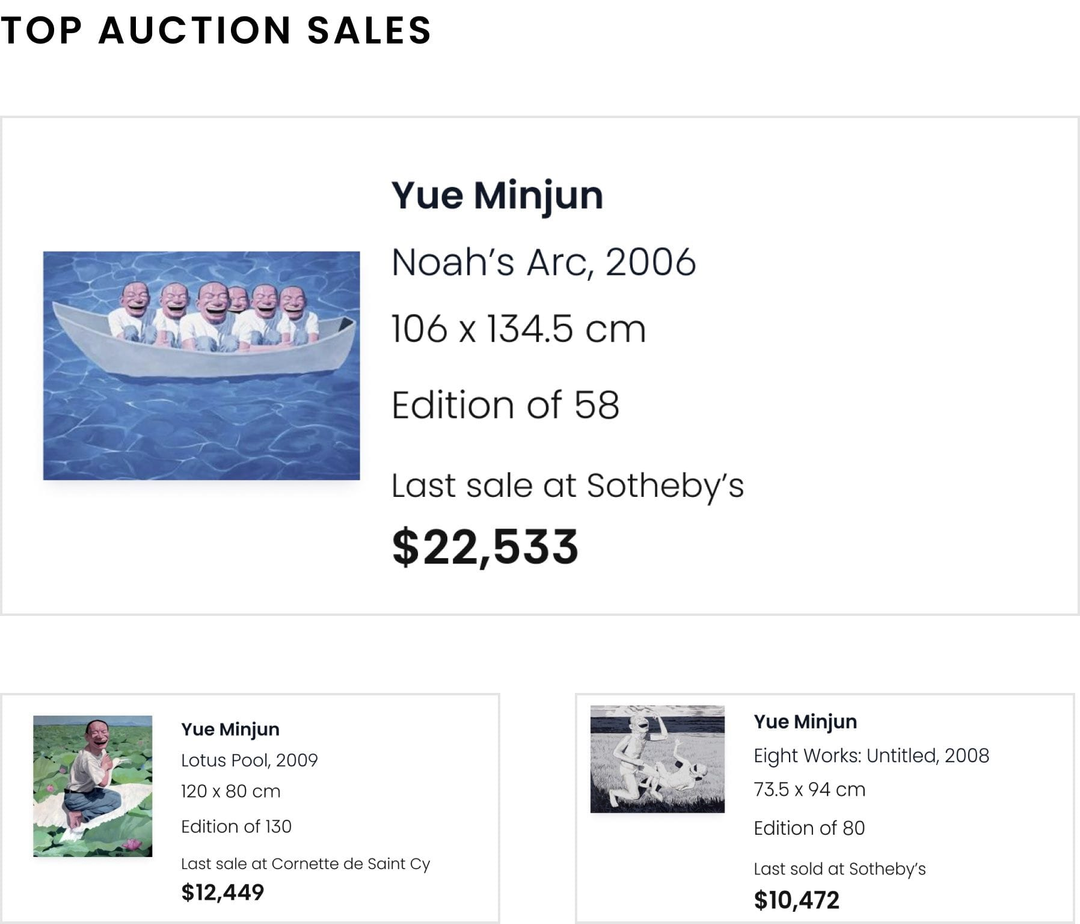 Yue Minjun's debut in the web3 market is surpassing auction sales across established categories
Auction Sales Breakdown
Digital
USD $1,683,750 *all time sales
Prints and multiples
USD $1,431,321
Works on paper
USD $665,597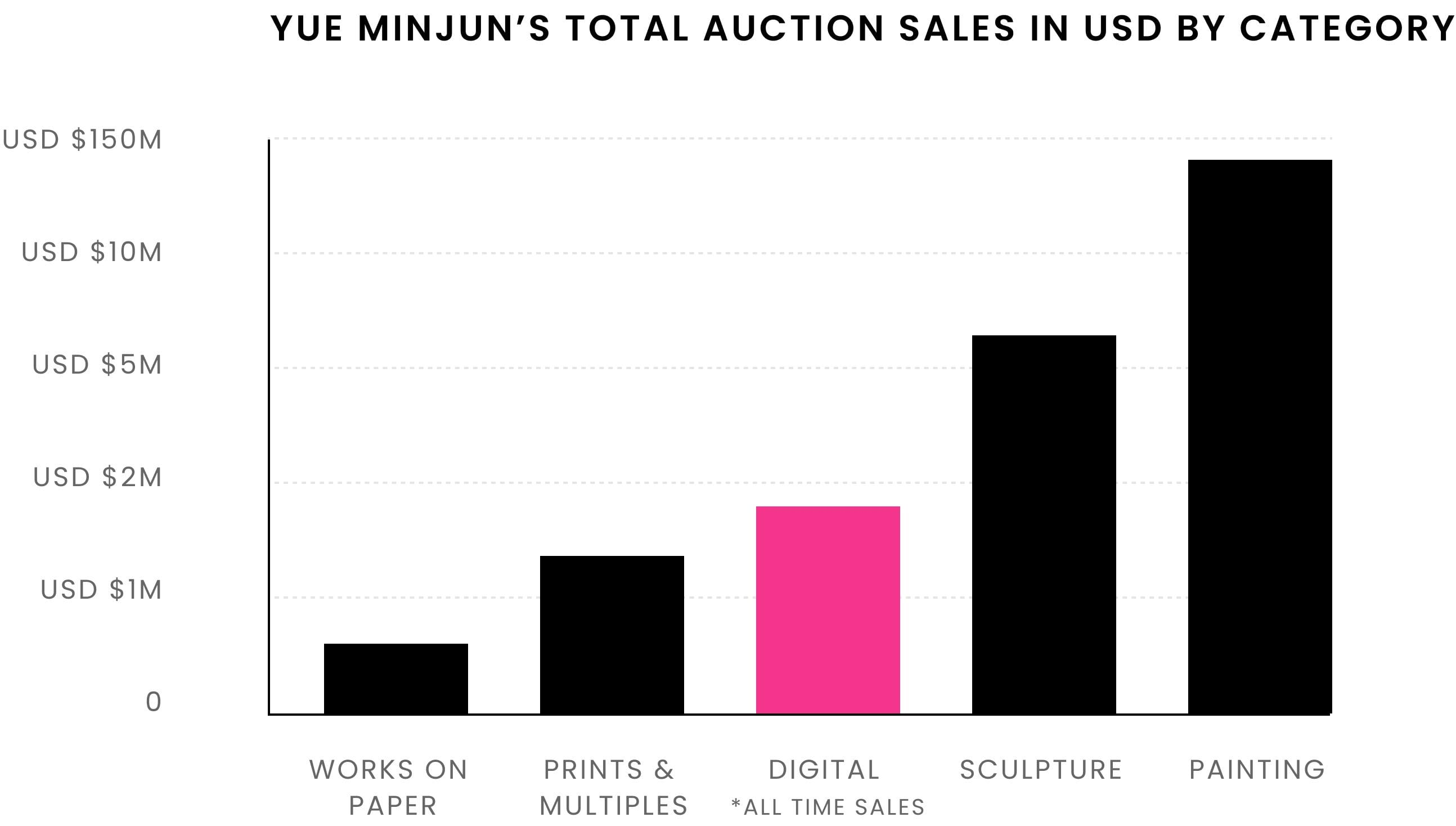 Chapter 1 — SOLD OUT
Boundless NFT
"This is what drew me to the generative model as a tool. I can reinvent myself 999 times in the digital medium, which would take me another couple of decades with painting"
— Yue Minjun
About the collection
Yue Minjun, one of the most prominent blue-chip contemporary artists with 150 million USD in auction sales, enters the Web3 arena with an adventurous and groundbreaking multi-chapter project Kingdom of the Laughing Man. The first chapter of this project is Boundless, a generative collection employing the crypto-centric ""PFP,"" or Profile Picture, model. This strategy, often undervalued by traditional art circles, allows for releasing 999 unique 1/1 works, each standing as a vital piece worthy of collection. Boundless signifies more than just the first chapter in this extraordinary collection; it triggers a paradigm shift, bringing renowned traditional artists into the Web3 space.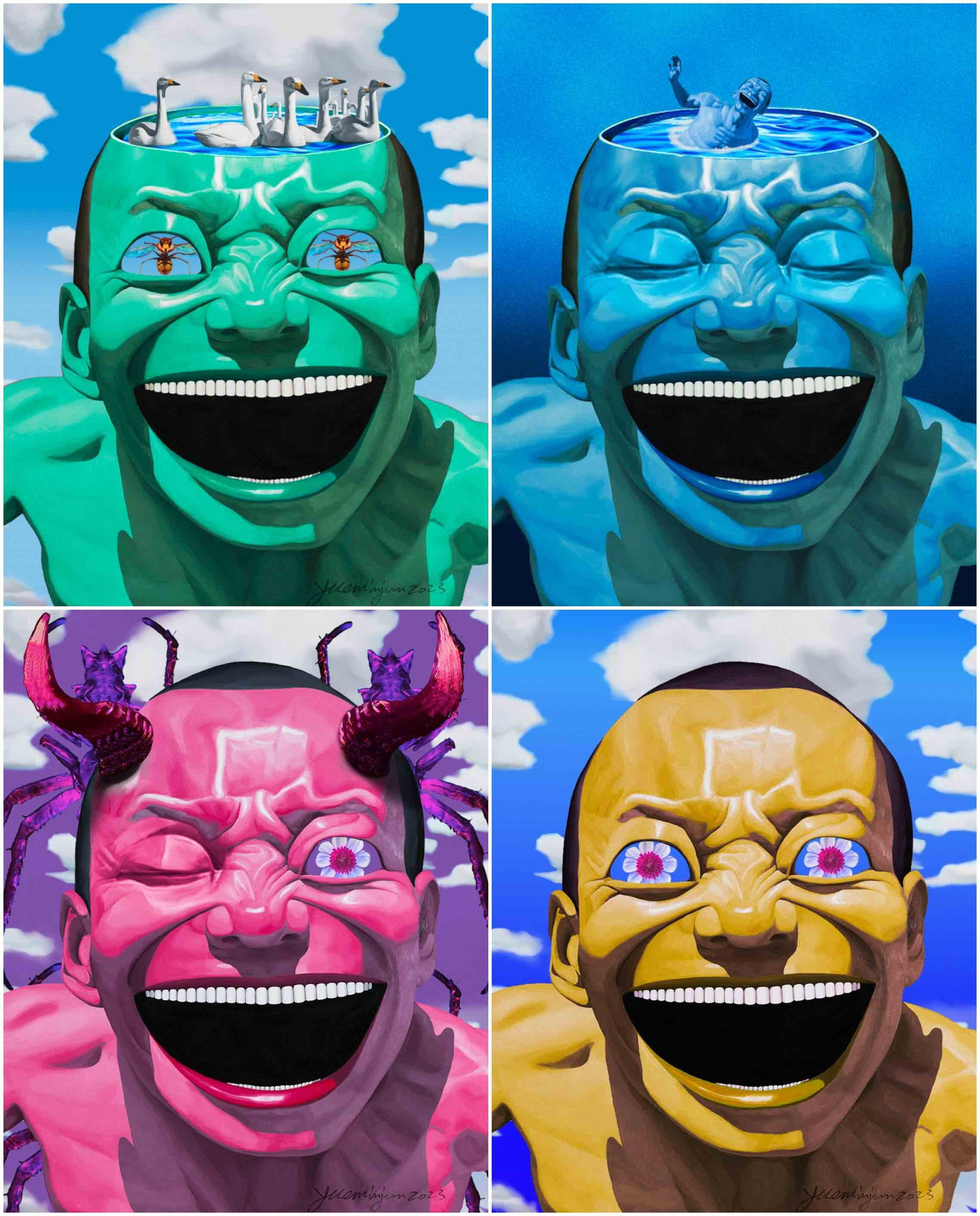 © 2023 LiveArt. All rights reserved